1. What is your favorite Christmas decoration in your house? I just bought a new willow tree nativity set and am so excited. My birthday is next week and I am dying to open it up before then.
2. Do you finish your Christmas shopping early or are you a last minute type? Done, Done and double done. So excited to say I am done this year. I try to get done early so I do not over spend and am not over stressed about it.
3. When do you turn on your heat? As late as I can, I have had it on a couple of days this year. I enjoy the house colder and I am cheap. I love to layer under blankets.
4. Do you ever wish your blog was private? Yes every day. I actually have a private blog. I have so much I would love to talk about but fear family would not understand. I would love to write about PTSD and not worry about it anyone in the Army getting back.
5. Do you put your deodorant on before or after you put on your shirt? If I shower right after I shower. Most of the time I forget and have to go back after I get my shirt on.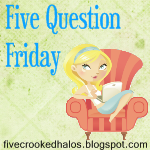 Pamela