1. What is your favorite Christmas cookie? This is hard, probably peanut butter with a Hershey kiss on top.
2. What's your favorite holiday movie & why? The Grinch is what my husband said I should say because I am a Grinch. But really it is shows like the Christmas Shoe.
3. Is there a gift that you bought for your kids that you wish you hadn't after they opened it? Anything with noise or a million pieces. Oh wait NAIL POLISH, why did I ever think that would be a good idea.
4. What is the messiest room in your house right at this moment? Hmm about even but I would say dinning room because last night we celebrated my birthday (or not really) and just left it on the table.
5. What is the furthest you have driven for the holidays? 9 hours to visit family. Not very far. I cannot stand to drive, really do not like driving, really would fly to the next town if I could.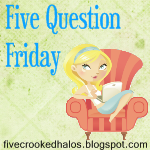 Pamela