1. I never _clean my house__ on a _day friends are visiting. ___ and if you believe that you will believe I never get angry at my kids.
2. Fourth of July___ is my favorite holiday, because I love how people all the sudden become patriotic.
3. I think my children___ is/are _nuts and crazy and weird and beautiful and loved and curious__.
4. When there is a _military homecoming__ I _I cry like a baby even if I do not know any of the men coming home__.
Pamela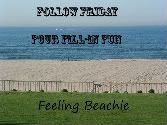 "/>