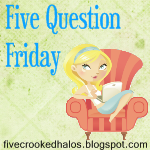 Questions for Friday, September 24th: (Special thanks to Colleen [no blog], inspiration from Pam, Tiffany, Angelina, and Jill for their question suggestions! If YOU would like to be linked in a future 5QF, c'mon over to my community and offer up your best question suggestions!!)
1. If you could speak with a different accent, what would it be (i.e Australian, Scottish)? hmmmmmm British would be it in a heart beat
2. Can you fall asleep anywhere? (i.e floor, couch, deck) a couple of years ago no, but now I seem to be tired all the time and can fall asleep anywhere. now sleeping is another story I need my bed or couch. Actually I would prefer to sleep alone on the couch. I always have but it is not good for my marriage, hehe
3. Do you use public restrooms? If so, do you sit on the toilet? Do I have to admit this answer? The answer is yes and yes. Okay now you can kill me. The reality is that I make sure the kids go potty everytime we leave the house but I on the other hand am in a hurry and never go.
4. If you were stuck in an elevator for 24 hours, what celebrity would you most want to be stuck with? Kirk Cameron, because I know we could find stuff to talk about but I would never be attracted to him or maybe Dr. Phill. oh yeah, Dr. Phill, a 24 hour counseling session.
5. Where did you & your significant other go on your 1st date? Oh now I love this question. He took me to play miniature golf only when we got there they were busy so we went to the driving range first. Then back to miniature golf. I asked if I needed to do anything else and he said NO. So I swing the ball and guess what? It hit a car in the parking lot.