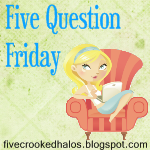 Questions for Friday, October 22: (Special thanks to Pam, Bethany [wowza, Bethany!! you came up with so many good ones, I had a hard time choosing!! Thank you!], Sandy, Katie, and [inspiration from] Wombat for their question suggestions! Do YOU want to be linked in a future 5QF? Do you have any burning questions? C'mon over to my community and offer them up!!)
1. Who is the better cook, you or your spouse? honest my husband probably is. I love baking more than him. But, I do not eat the variety he does so he is willing to use spices and weird ingredients
2. How often do you talk to your mom? a million times a day, if I do not answer when she calls she calls back again and again RIGHT MOM!
3. Are you adventurous in the kitchen or stick to the recipe? oh man, I totally stick to the recipe. It drives me batty if my husband does not. that is why it is a recipe
4. Is your second toe longer than your big toe? nope, is it wrong that I had to look.
5. Do you dress up for Halloween? (Bonus question: What will you be this year?)
nope, we gave up Halloween several years ago.