This week's statements:
1. I am afraid of__driving in snow or ice. I am honestly afraid to drive in any weather. __
2. My _livingroom__ is my favorite room of my house; it is the only room that has any real decorations. And honestly it does not have a lot of decorating.
3. The last time I _rode a zip line____ I couldn't _hold my own body weight and landed on my bottom with little rocks all over my knees and arms_____.
4. I got my first __house on my own___ when I was _18 years old__
Pamela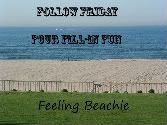 "/>