This week's statements:
1. When I am _lonely_ I always _take a moment to write my hero a love letter. __
2. _8pm__ is my _saving grace_ of _the day.__
3. The __first thing I do in ____ the _morning is check to see if my hero has e-mailed me. ___
4. If only I _had more patience______ then __would get more done during the day____ and everyone would be _calmer and more satisfied with life.
Pamela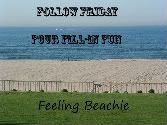 "/>