This week's statements:
1. I always refuse to admit that I am a good mother, I know it sounds weird but I have a list of failures and need to give them up.____
2. I won't eat _any vegetables that do not include the words green and bean. It is wrong I know. I try to convince myself that potatoes are veggies but no one will believe me.___
3. I would like to hang out with _oh so many people, a real missionary in Africa so I can understand better, a soldier in Africa, I would love to hang out with MckMama for a day and just talk, I would love to hang out with my high school home ec teacher for the day in her classroom, I would love to hang out in a amusement park with my hero for a day.
4. I would like to learn how to _make real clothes, decorate a real cake, give myself a pedicure. I can do it all but need to step them all up and finish what I start. _________
Pamela
border="0" src="http:// s1106.photobucket.com/albums/h363/feelingbeachie/?action=view&current=followfriday_edited-2-1.jpg" target="_blank">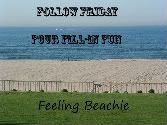 "/>
Want to link up head over to
Feeling Beachie