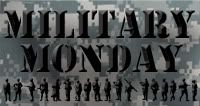 I am so excited to get back into Military Monday. I am excited to get back to meeting new spouses. I thought I would take a moment and re introduce myself in case we have not met and tell you a little about our military life.
My hero has been in a total of 19 years, 16 active and 3 reserve. I can hardly believe it has been that long. We are often asked how much longer we will stay in. My response is it all depends upon how fast he can get his degree and what the economy is like. The real is answer has less to do with jobs and more to do with how many more deployments we can handle.
We have been stationed at Fort Campbell, Germany, Fort Campbell, Redstone Arsenal and are currently at Fort Bragg. My hero is deploying soon for his eighth deployment. He has been to Albania, Kosovo, Bosnia, Iraq three times, Afghanistan and is heading back to Afghanistan soon.
Pamela