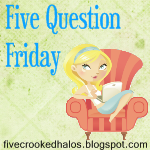 1. Do you sing out loud in the car when you're driving? OH, man. I do and it can be embarrasing. I do not always raise my hands and dance around the church but when I turn on my praise music in my van I am worse than any teenager. It is one of my favorite things to do. I have to be careful because I have actually caught myself closing my eyes while I worship. Not a good idea while your driving.
2. What would you never be caught doing? hmmmmmmmm, screaming at my kids, really I think it is horrible to scream at your kids in public. I am not promising that I do not do it, just not in public. I guess I would never pick my nose or make out with my husband but those are pretty normal. no really you would never find me singing or dancing in public
3. Will you go #2 in a public restroom? Try really hard but honest every time I go to Kroger I can not help it. And normally when I go to a friends house and set and talk I have to. I hate it, I wish I could control it.
4. Have you ever broken a bone? Yes, my collar bone in a car accident but that is it. I am pretty sure my step dad broke my thumb but do not remember having it set.
5. Do you prefer cooking or baking? Baking any day of the week
Please check out
Mama M's
blog and see how others answered these questions and do not forget to check out my first give away.