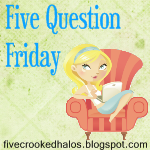 1. What was the first car you owned? a chevy chevette
2. What song are you embarrassed to know the lyrics to?I got big butts and I can not lie, you other brothers can't deny
3. Have you ever had stitches?yes, when I was 2 and a toolbox fell on my foot and under my arm when I climbed a fence to be like the boys and fell on the top.
4. What was your first job? I have babyset full time since middle school. It started about 20 hours a week and by high school I babysett 40 hours a week, then I worked in a drug store
5. Who is your favorite Sesame Street character? ooh man that is hard but probably big bird
There is only one day left to enter my give away here. I have not had very many enter so you have a good chance of winning.