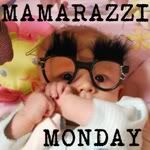 I have to make everyone laugh. I have been doing Mamarazzi Monday for a few weeks and love it. Why do I love it because I never allow pictures of myself. I hate it actually. Here is the funny part, it is not about pictures of you with your children, it is about:
You know...
the Mommy version of "Paparazzi"...that Mom who first grabs her camera.
Just so you know I am a goober and someone should really come up with a meme that is about taking pictures of yourself. Okay since I now know what it is really about here are my pictures.
These pictures were taken last year for October, I think it was about 40 degrees and windy outside but I needed pictures. If you have not entered my camera strap give away please click here
here
.
Please head over to
Household of Diva
6 and see what kind of pictures other moms took.