1. Do you open presents on Christmas Eve or Christmas Day? One Christmas Eve, sometimes pajamas sometimes a gift. Nothing really exciting.
2. What is your favorite Christmas cookie (or candy)? I just wrote about it
here
. It is my pumpkin butter whoopie pies and the potato candy I will post about next week.
3. What's the worst Christmas gift you've ever received? It is more like what is the best that you made the worst. I received a diamond tennis bracelet and I returned it for a steam cleaner.
4. Christmas song that you love? I could listen to this song everyday.
5. How many trees do you put up?
Only one this year. Sometimes we let the kids put one up their rooms but this year we have not even made it to putting lights in the backyard.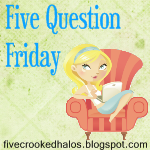 Did you know today is the last day to enter my Chili's giftcard give away right
here
. Entries are low so your chances are good.