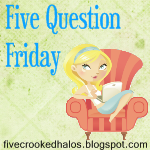 1. How long does your Christmas tree stay up?
Normally not this long. It is always a argument. I want it down Christmas day, my husband wants it up until Easter. Honestly we normally take it down some time between Christmas and New Years. I have been sick this week so it is still up.
2. Do you have plans for New Year's Eve? It sounds silly but my goal is to stay awake. I normally do not unless we have people over. We have decided to stay home this year and not invite anyone over. I am sad and happy about that all at the same time.
3. Do you have any New Year's resolutions? No, goals to get things more organized in my life but not resolutions. I would like some things to happen like loosing weight and getting out of debt and be a better wife but I am not making resolutions because I do not want to set myself up for failure.
4. How did you spend New Year's Eve when you were younger?
I do not remember, so probably nothing.
5. What was the best way you've ever spent New Year's Eve? I love when we have friends over.
----------------------------------------