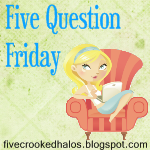 1. What is your worst memory of your siblings? hmmmmmmmm, him being spoiled. hmmmmm, I really can not think of any except that he was so lazy he would urinate out his bedroom window instead of going to the restroom. ooh how I would love to have one more day with him.
2. What was YOUR naughtiest childhood memory? (Must be something YOU did, no pawning it off on someone else!) telling my brother that someone stood in front of a fan and had a BM and that is how he got all those freckles
3. Where do you like to go to relax? To the bathroom, is that bad. sometimes I sneak in my room and lock the door and just lay in our bed for 2 minutes. AHHHHHHHHHHHH! My hero is deployed so I can not really escape
4. What was the last thing you won? oooh I won something like a diaper cake only it is a spa cake from
Sweet cakes
and I won a DVD from MckMama. She actually sent me the wrong thing. She sent me the love and war bible study instead and then still sent me the craniums Ark DVD.
5. If you could be on a game show, which would you choose? OOH man, I do not think I would be good at any of them. The price's right sounds easy, maybe deal or no deal