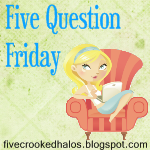 Rules for Five Question Friday: Copy and paste the following questions to your blog, answer them, then c'mon back to link up (on Friday, of course!). If you'd like, the blog hop code is available for you to grab! I would be a very grateful mama, if you'd link back to me, Mama M.!
If you don't have a blog, but want to play along...feel free to answer the questions in the comments of this post, or any blog along the blog hop way!
Questions for Friday, May 21st: (Special thanks to Pam, Jill, Liz, Erin, and Lula Lola for their question suggestions! Wanna be linked in a future 5QF? Head over to my community and offer up your best question suggestions! We need some freshening up over there...so I'd LOVE to see some new questions!!)
1. Do you have an iPhone and, if so, how do you get apps and what are your favorites?
I am so glad Mama M picked this question because I NEED lots of help with my new Iphone. I would say my favorite App is that I can deposit checks using my phone. I love USAA
2. What is your fondest memory of K-3rd grade? Mrs. Smith was my third grade teacher and while I thought she hated me I have the best feelings of comfort when I think of her. I remember seeing the space shuttle take off during her class (on TV). She is now the principle at that school.
3. What makes you cringe at the thought of touching? HMMM upchuck, Seriously all of my children know if they miss the toilet they are cleaning it up themselves. I can not stand the site, smell or thought of it. I can count on one hand the amount of times I have up chucked in my life and am grateful
4. If you could have any celebrity show up on your doorstep who would it be and why? The guy off of cake boss because my baby girls LOVES him.
5. What would you say is your best physical feature? My hair, few gray hairs but curly and other wise I like the color