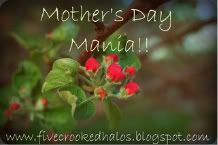 Behold, children are a heritage from the LORD, the fruit of the womb a reward. Like arrows in the hand of a warrior are the children of one's youth. Blessed is the man who fills his quiver with them! He shall not be put to shame when he speaks with his enemies in the gate.
(Psalms 127:3-5 ESV
What do you enjoy most about being a mom and what is your most embarrassing moment.
I know I had embarrassing moments like when my son talked about a man's penis here. Or when my son told me he caught me ………. To daddy…….. and when he said another day he heard…………from my bedroom……… Really what child admits that.
Now why do I enjoy it, this is when I wish I could write with grace and beauty. I love my children in ways I never dreamed possible. I love the way some of them say momma. I love the way they need me. Is that bad? I love the way they want to be with me and snuggle with me. I love the look they get when they have done something nice and I realize it. I love the way there eyes light up when they learn something new. I love the way even my 13 year old still tells me everything and is willing to talk to me.
I love being a mom. I love watching them grow and I love watching them tell each other about Christ. I love that they remind me where to put my hopes and dreams and fears.
But as for you, continue in what you have learned and have firmly believed, knowing from whom you learned it and how from childhood you have been acquainted with the sacred writings, which are able to make you wise for salvation through faith in Christ Jesus.
(2 Timothy 3:14-15