Questions for Friday, May 28th: (Special thanks to Lorilynne, Erin, Sandy, Kyrsten, and Renee for their question suggestions! If YOU wanna be linked in a future 5QF, c'mon over here, to my community and offer up your best question suggestions!)
1. Is there something you've always wanted to try but just can't muster up the courage to actually do yet? I want to know how to swim, really swim. I want to know how to dance.
2. If you had $100 handed to you in cash without your significant other knowing about it, what would you spend it on? ooh, I have wanted to buy Zumba DVD's for months now but do not want to spend the money
3. What was your favorite piece of playground equipment as a child? Swings, I still love them
4. Do you prefer a sweet or hearty breakfast? Recently I am loving a sausage, egg and cheese biscuit but I also love to stop at a gas station and pick up a HUGE mountain dew and large honey bun or donut
5. Are you a Neat Freak or a Messy Bessy? somewhere in between. I love things organized and it drives me batty having things lay around. But I never mop and rarely dust or deep clean
Mama M has worked hard at making sure she get's fun questions out there every week. Please click over to her blog and tell her thanks.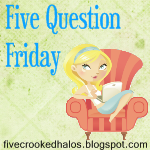 It is still not to late to enter my camera strap give away right
here
.